Estimated reading time:
1 min
Properly shutting down your OmniDTF printer is very important to ensure that it will be ready to print the next time you start it up. Fortunately, the process is very easy!
Take about 5 minutes to go through these simple steps when you're finished with your print job.
Curing Oven Shutdown
If you haven't already done so, start by turning off the Curing Oven's main power switch. This is a master switch that will cut power to the Duster, Shaker, and Oven — so shutting off any other switches is optional.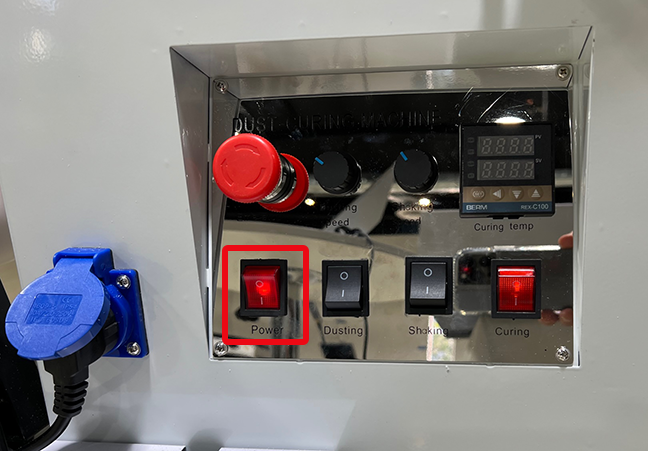 Printer Shutdown Maintenance
Press the Printhead Cleaning button on the printer's control pad to flush any pooled ink out of the capping stations.



Empty the waste ink bottle
Press the Carriage Left button to move the printhead carriage to approximately the center of the printer, easing access to the ink line clips and exposing the wiper blade and capping stations.



Reposition all 8 ink line clips slightly up or down on the ink lines, then clamp them shut.



Use the Carriage Left button to move the printhead carriage to the far left end of its travel, so it is no longer positioned above the heated platen.
Wet an anti-static foam swab or a clean, lint-free cloth with Super Cleaner to thoroughly clean:

The full length of the wiper blade
The rubber seals surrounding both capping stations




Remove any bits of dried ink on the capping station sponges or seals with tweezers.
Wet Capping the Printhead
Fill both capping stations to the brim with Super Cleaner.



The wiper blade and capping station seals should now be free of any ink build-up and the capping station sponges completely submerged in Super Cleaner, up to the top of their seals.

Click the WetCap button under the Settings tab in the OmniDTF Windows program.


This will send the printhead carriage to its docked position and raise the capping station seals to press against the bottom of the printhead plate, bathing it in Super Cleaner within an air-tight seal.
The printer can now be turned off from the power switch on the right side, near the back of the printer.


That's all there is to it.
Congratulations! The printhead maintenance components have now been cleaned and the printhead is wet capped.
Not finding what you need?
You can contact our technical support team by sending an email to support@omniprintonline.com with your company name, contact name, phone number, printer serial number, and a quick description of how we can help you.
This will automatically open a support case for you in our ticketing system and a technical support rep will follow up with you shortly.