Estimated reading time:
1 min
Problem: An update for Windows 11 has been found to block DirectRip from loading the list of available printers in the Print Setup window, so the R2400 device name is no longer available for selection.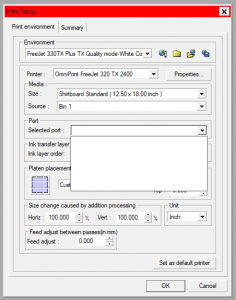 Preliminary checks: There are a few things other than a Windows 11 update that may result in the printer being missing from the available Port options in the Print Setup window. Check these fundamental items before proceeding with the fix for Windows 11.
Confirm that the Freejet printer is completely turned on with the Power light on the control pad lit.
Confirm that the Maintenance tab of the R2400 driver's Printing Preferences window can send a head clean or nozzle check to the printer.
Confirm that DirectRIP is running as Administrator. If you're not sure, right-click on the icon for a Run as administrator option.
If the above three points check out, proceed with the fix for the Windows 11 issue.
Solution: Close DirectRIP (if it is running) and then run the "Updater" patch tool linked at the bottom of this article using the following steps:
Download '221015_OMNI_DirectRIPForWindows11_USBPortPatch.zip' from the below link to the PC with DirectRIP on it.
Double-click on the downloaded .zip file to view its contents in Windows File Explorer.

Click & drag the '10_15_2022_OMNI_DirectRIPForWindows11_USBPortPatch' folder from File Explorer to the Windows Desktop.
Double-click on the new folder that was copied to your Windows Desktop ('10_15_2022_OMNI_DirectRIPForWindows11_USBPortPatch') to open that folder and display its contents.

Right-click on Updater.exe, then click on 'Run as administrator'. If Windows prompts you with the message, "Do you want to allow this app to make changes to your device?", click the 'Yes' button.
When prompted with the following message, make sure that DirectRIP is not running and then click the 'Yes' button.

The DirectRIP folder will be displayed in a new window. Just click the 'OK' button to continue.
That's it! You can now load DirectRIP and the printer will now be listed in the Print Setup as an available Port to select.
Not finding what you need?
You can contact our technical support team by sending an email to support@omniprintonline.com with your company name, contact name, phone number, printer serial number, and a quick description of how we can help you.
This will automatically open a support case for you in our ticketing system and a technical support rep will follow up with you shortly.