Estimated reading time:
1 min
About Environments
Print Pro DTF Environments are collections of preset options used to select the printing resolution and other parameters when setting up a print job for the OmniDTF.
Here is the current set of Environments, as shown in Print Pro DTF by selecting the Layout tab, then clicking on New and hovering over Omni DTF.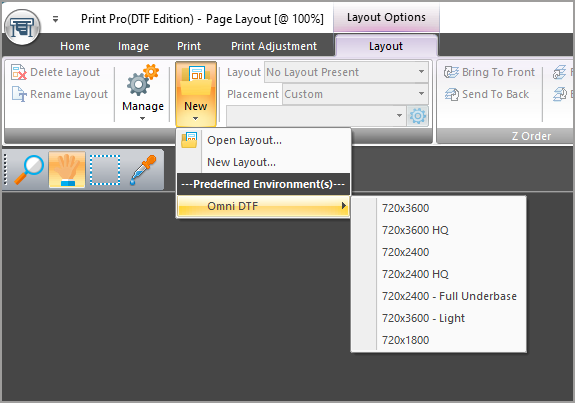 Details on how to set up a Layout and recommended usage of the various OmniDTF Environments installed with these instructions are available from knowledge base article links at the bottom of this page.
To update the Environments in Print Pro for your OmniDTF printer, download the file at the bottom of this article and follow the instructions in the below video or the following written steps.
Video Demonstration
Installing the Environments
The installation process of the Environments is quick and easy.
Download the Environments file to the PC on which you've installed Print Pro.

See the download link at the bottom of this article.

Extract the .kiee file from the downloaded zip file.

Placing the file on the Windows Desktop is recommended to easily find the file. It can be deleted after this installation process.

Run Print Pro.

Select the Home tab, then click the Import button.



Select the .kiee file that was unzipped from the download, then click the Open button.

If prompted with a message of "Already 'Omni DTF-720×3600' environment exist." (The actual environment name will vary), click the Yes button.

If prompted to Select environment settings to use, select 'Use new environment settings only' and click OK.

Click OK on the "Media packages imported successfully" window.



Exit out of the Print Pro program, then restart it.
The OmniDTF Environments have now been updated and are ready for use.
Print Pro Environments download links
Not finding what you need?
You can contact our technical support team by sending an email to support@omniprintonline.com with your company name, contact name, phone number, printer serial number, and a quick description of how we can help you.
This will automatically open a support case for you in our ticketing system and a technical support rep will follow up with you shortly.