Estimated reading time:
1 min
Transferring a finished print to a garment is simple and can be done immediately after DTF printing and curing, or up to a month later. Longer storage times may be possible if carefully stored in an air-tight container and in a climate-controlled environment.
Prepare your heat press for a DTF image transfer.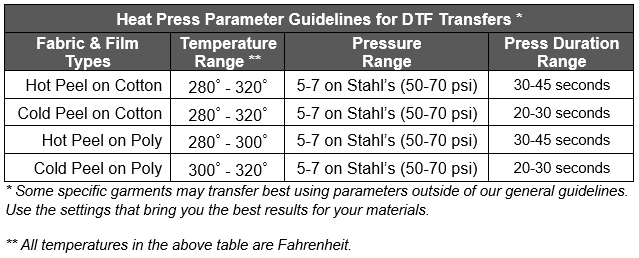 Cut out the image that you want to transfer to a garment from the film roll or sheet.
Place the garment to receive the image transfer onto the heat press.
An initial pre-press of the garment prior to the transfer press can be helpful to remove any wrinkles and slight moisture in higher humidity environments.
Verify that the collar, shoulders, and any seams are draped off the side of the heat press to ensure proper pressure at the transfer location
Place the DTF print on the garment, with the ink & glue side of the film directly against the fabric, positioned exactly where you want it transferred.
Press the transfer onto the fabric using the above temperature, pressure, and duration.
Remove the garment from the heat press, lay it on a clean, flat, hard surface, and carefully peel the film away from the garment at a moderate rate.
When using cold peel film, delay the next step for a minute or so, until the inked area of the garment has cooled down to room temperature.
Place the shirt back on the heat press with a sheet of parchment or Kraft paper between the shirt and the top of the heat press, then perform a final "finish" press for an additional 20 seconds at the same temperature and pressure as the transfer. This further cures the surface of the print and creates a smoother transition between ink & fabric.
The transfer process is now complete!
Not finding what you need?
You can contact our technical support team by sending an email to support@omniprintonline.com with your company name, contact name, phone number, printer serial number, and a quick description of how we can help you.
This will automatically open a support case for you in our ticketing system and a technical support rep will follow up with you shortly.