Estimated reading time:
2 min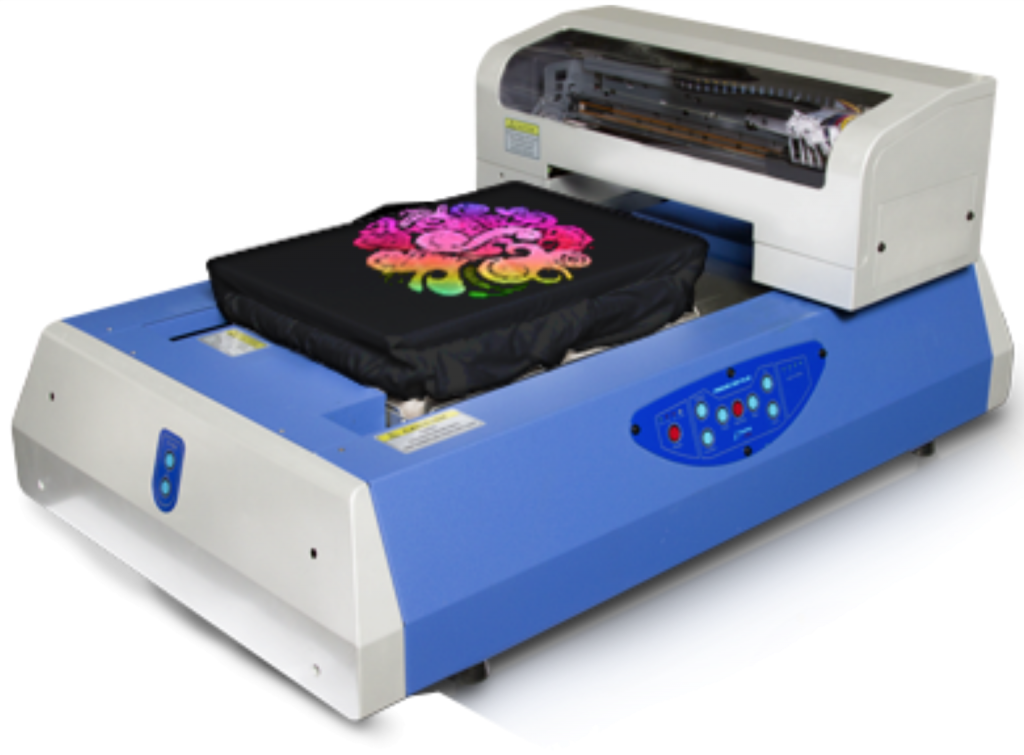 Screen Printing
"The technique of creating a picture or pattern by forcing ink or metal onto a surface through a screen of fine material."

Oxford Languages
Traditional screen printing is a printing method where ink is pushed through woven screen stencils onto fabric. The ink doesn't soak into the fabric but lays on top of the fabric.
To transfer the ink, a special screen is made for each color in the design. Then, the inks are mixed for each color in the design. Each color is printed onto the garment, one by one, through the screen stencil prepared for that color in the design. The more colors in the design, the more screens must be prepared and the more instances of applying the ink for each color. Once those screens are created and inks mixed for each color in the design, it's easy to produce a large volume of prints in a timely manner.
The best designs for screen printing are solid graphics without small detail — designs with simple symbols, geometric shapes, and basic typography. This is because making screen stencils for detailed graphics with many colors is very time-consuming and it's difficult to get fine details right. Screen printers often need to limit the amount of color in a design to reduce set-up time and costs.
Direct to Garment (DTG)
DTG printing is a process of printing graphics onto textiles and garments using an inkjet print head. DTG printers utilize a platen to hold the garment in place as the print head jets ink onto the textile.
Typically, the textile is pretreated with a special adhesive that sticks to the garment's fibers and allows the ink to bond to those fibers. The chemical composition of this adhesive pretreatment material also causes the "underbase" layer of white ink (which is used like a painter's base coat of primer when printing on colored shirts) to quickly gel. This prevents the CMYK inks from blending with the white underbase and provides great color vibrancy.
DTG can print just about any type of graphic. All you need to do is load an image into the printer's software, select a few settings, and click print. Any type of design can be printed, even those with complex graphics and thousands of colors.
Because there are no screens to prepare, DTG has a considerable setup time advantage over screen printing. Depending on the fabric and graphic, DTG may take more time for the actual print. But, since setup is very minimal, DTG enables on-demand order fulfillment with no upfront costs, making one-time and lower quantity print runs economical.
Both screen printing and DTG produce quality prints, but with differing setup methods and costs. Here's a chart detailing advantages and disadvantages:
DTG
Printing
Screen
Printing
High-quality prints
Yes
Yes
Detailed designs
Yes
No
Unlimited color options
Yes
No
Order minimums
No
Yes
On-demand fulfillment
Yes
No
Bulk discounts
Yes
Yes
Significant setup costs per design
No
Yes
Sustainable
Yes
No
Not finding what you need?
You can contact our technical support team by sending an email to support@omniprintonline.com with your company name, contact name, phone number, printer serial number, and a quick description of how we can help you.
This will automatically open a support case for you in our ticketing system and a technical support rep will follow up with you shortly.